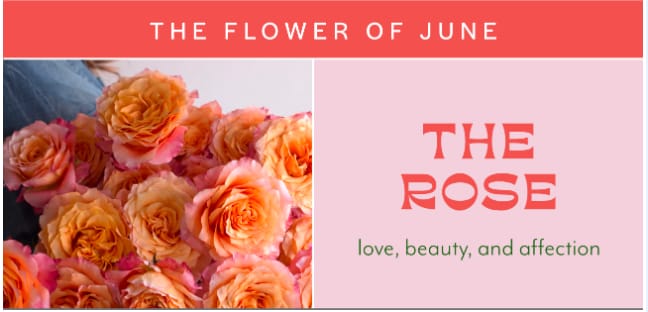 What's Trending in June
June 06, 2023
Reasons to Celebrate the Month of June:
June 1st - Say Something Nice Day - We are thankful for you!
June 2nd - National Donut Day - We'll take two!
June 4th - National Hug Your Cat Day - Hug at your own risk!
June 5th - World Environment Day - Let's all do our part!
June 8th - National Best Friends Day - Send flowers to your BFF!
June 12th - National Peanut Butter Cookie Day - Okay, if we must!
June 14th - Flag Day - Raise Your Flag!
June 18th - Father's Day - Don't forget about Dear old Dad!
June 21st - Summer Solstice - Enjoy the longest day of the year!
June 23rd - National Take Your Dog to Work Day - This should be every day!
June 27th - National Ice Cream Day - Two scoops, please!
The meaning of roses
The rose has long been a symbol of love, beauty, and affection. And each color rose holds a different meaning. A red rose means 'I love you,' and is a sign of romance; pink represents happiness and admiration; a white rose symbolizes innocence and purity; orange means desire and excitement; yellow represents cheer and happiness, although some folklore considered it to mean jealousy. Red and white roses paired together have come to symbolize unity.
There's a reason roses feel timeless and iconic. Fossil evidence in the form of rose leaves suggests that plants in the rose family date back at least 35 million years. How about that for a history lesson?!
Cheers to the official start of summer and a great month ahead!